Reading
Reading at Great Bridge Primary School
At Great Bridge Primary School, our goal is to cultivate a love for reading, empower pupils to develop confidence and proficiency in reading, and equip them with the essential knowledge and language skills necessary for academic success and everyday life. We firmly believe that reading is the foundation of all learning and plays a vital role in enabling children to access a wide range of subjects.
Our ultimate aim is for every child to develop a lifelong passion for reading, gaining a deep understanding of texts and the ability to critically engage with a variety of genres and writing styles. We are committed to ensuring that all pupils, regardless of their starting points or backgrounds, achieve their full potential as independent readers who not only comprehend information but also derive pleasure from reading.
Our reading curriculum is underpinned by the following principles:
Phonics Instruction: To ensure early reading success, we have implemented a rigorous phonics programme based on the acclaimed Read, Write, Inc. programme. This systematic, synthetic, and explicit phonics teaching enables students to progressively develop their phonetic knowledge and skills. We provide regular, targeted phonics sessions tailored to individual needs, ensuring that all pupils establish a strong foundation in word decoding and blending.
Reading for Pleasure: We are dedicated to fostering a love of reading amongst our pupils. Our classrooms and library spaces are inviting, with a wide range of engaging and age-appropriate texts readily available. We encourage daily independent reading time and provide numerous opportunities for children to share and discuss their reading experiences with their peers. Furthermore, we actively involve parents and carers by sharing recommended reading lists and organising regular reading events throughout the year.
Reading across the Curriculum: Reading is not limited to English lessons alone but is integrated throughout the entire curriculum. We offer multiple opportunities for students to enhance their reading skills and comprehension in all subjects. This includes regular reading of subject-specific texts, purposeful reading tasks, and the application of advanced vocabulary and concepts within meaningful contexts. We explicitly teach reading strategies such as skimming, scanning, and close reading to help students become confident readers across a wide range of topics.
Our reading curriculum has been meticulously designed and planned. It aligns with the National Curriculum and has been developed in collaboration with Melanie Glazzard, a literacy expert from the National English Hub. By incorporating her expertise and implementing the Read, Write, Inc. programme, we have strengthened our curriculum to meet the individual needs of our pupils. Our tailored curriculum considers the specific requirements of our students and ensures they receive a high-quality reading education. It includes a diverse selection of exceptional fiction, non-fiction, and poetry texts that are carefully chosen to engage and challenge learners, enhancing both their reading skills and their broader cultural knowledge. Furthermore, the curriculum reflects our school values of "all valued, all achieving, all equal," emphasising our commitment to inclusivity and equality.
Read Write Inc.
Read Write Inc (phonics) is for four to seven-year-old pupils learning to read and write, and for seven and eight-year-olds who need to catch up.
It is a complete literacy programme taught for 20 – 40 minutes a day in Reception and an hour a day in Year 1 and above. It is proven to develop:
fluent, enthusiastic readers
deep comprehension of texts
confident speakers
keen writers
Pupils are taught to:
learn to read and write letter-sound correspondences quickly
decode effortlessly, spell and handwrite easily
comprehend what they read
read with fluency and expression
write confidently using oral rehearsal
work effectively with a partner to articulate their learning at every step
Our Reading Hub
Our reading hub is open during dinnertime on Monday and Tuesday to allow children to read for pleasure in comfort. Children look forward to joining their reading buddies in the reading hub and sharing books with children from other year groups. The hub is a great opportunity for our reading ambassadors to promote reading for pleasure and the hub is very popular and successful.
D.E.A.R
We use a whole school approach to reading for pleasure and in each year group there is regular D.E.A.R time timetabled. During D.E.A.R time the children can drop everything they are doing and enjoy time dedicated to reading for pleasure.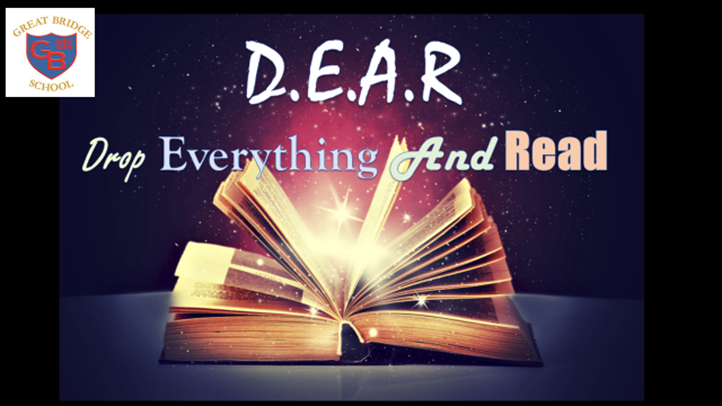 Story Time & Wonderful Word Walls
Story time is a priority in school and is timetabled daily. During this time, children listen to stories read by others including special visitors, learning support staff and teachers from other year groups. Children in Early Years and Key Stage One also enjoy taking part in role play during story time and rhyme time is also timetabled daily.
Stories are chosen by staff to specifically extend children's vocabulary and during story time new vocabulary is added to wonderful word walls in each classroom. This vocabulary is revisited regularly and children then go on to use this vocabulary in Oracy activities and writing.
Talk Through Stories
Children in Reception and Year 1 have a daily Talk Through Stories session in addition to Story Time. Talk Through Stories is a comprehensive programme created by Ruth Miskin to improve children's language acquisition and understanding. Talk Through Stories is used alongside the RWI programme to extend and deepen children's vocabulary so that they can understand the books they will soon be able to read for themselves. Teachers share a well loved story with the children during a two week cycle. These stories are language rich and include at least eight tier two words. Teachers support children to understand these words and use them in their talk.
Parental involvement in reading
Our expectation is that all children read each day for about 10 minutes. We understand that families are busy so this does not have to be done every day. They might read for a longer amount of time one night, then not at all the next day, for example.
Until children become fluent, confident readers who read for pleasure, it is important to read with your child as much as possible. We invite parents into school for reading and phonic workshops each year to support them with reading and phonics at home.
Here are some tips to support children with reading at home:
Read to them often, to model how books should be read.
Share books of interest together
Discuss pictures, front covers and the blurb as well as the text itself
Read books the children have chosen themselves in addition to the phonics-based books that they bring home from school.
Try to develop your child's ability to predict, question, summarise and infer meaning rather than just re-tell the whole story.
Help your child understand the vocabulary so that they can then use it themselves
Remember that the most important thing is for children to enjoy reading books.